Maintenance and Repair
Services > Maintenance and Repair
Fast and Quality Service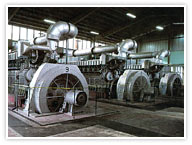 Services for Diesel Power Units, Air Compressors, Power Generators, and Uninterruptible Power Supplies.
We have established our services for diesel power units, air compressors, power generators, and uninterruptible power supplies with many hundreds of satisfied customers. Our service is supported by speed and quality of the work performed.
Services Specializing in the Following:
Hospitals
Public Health Establishments
24-Hour Operations
Accommodation Establishments
Hotels
Restaurants
Manufacturing Complexes
Look at photo gallery of Watteg, s.r.o. Implementations.