Company profile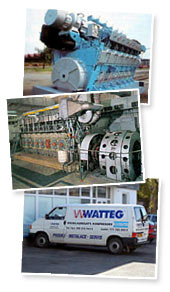 The WATTEG, s.r.o. company is one of the leading suppliers of alternative uninterruptible power supply units (diesel power units), diesel motors, air compressors, compressed air equipment, and replacement parts for the Czech Republic and other countries. We especially deal in brands of ŠKODA, ČKD, Atlas Copco and ComAp.
We Put Main Emphasis on Deliveries of Diesel Power Units, Power Generators, Air Compressors, Natural Gas Kits, and Uninterruptible Power Supplies.
The WATTEG, s.r.o. company provides designs, supplies, installations, maintenance and repair of all the mentioned equipment in the government and private organizations based on the individual customer demands.
Priority activities of the company are the deliveries of replacement parts for ŠKODA / ČKD diesel power units and diesel motors, and the implementation of power backup unit deliveries for fire departments, hospital establishments, banks, industrial complexes, food establishments, etc.
Our company provides the supply, complete overhaul and power backup unit automation for the diesel power units.
Our maintenance and repair center provides services for all equipment including the replacement parts delivery for the Czech Republic and other countries.
If you are interested in any of our offered services, don't hesitate to contact us. We will gladly provide you with all necessary information. We are looking forward to our potential cooperation.
Picks from Our Product and Services Offer:
Sales, Maintenance and Repair of the Stationary and Marine Diesel Motors ŠKODA / ČKD
Diesel Power Units, Air Compressors and Compressed Air Equipment Atlas Copco
Overhaul and Automation of the Existing Uninterruptible Power Supplies
Design Advisory Services, Preliminary Studies