Spare parts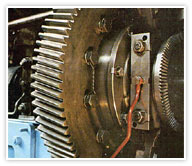 Replacement parts for diesel power units, power generators, uninterruptible power supplies, air compressors and compressed air equipment, natural gas kits, and other groups of the SLAVIA, ČKD and Atlas Copco products and sets supplied not only by us.
We Will Provide the Replacement Parts for Your Air Compressors and Diesel Power Units almost Immediately
We keep in stock a large amount of the accessories for ŠKODA ČKD and SLAVIA air compressors and diesel power units, the replacement parts for ATLAS COPCO products, and many other articles.
Contact us if you need a fast delivery of the replacement parts for your equipment sets.
Spare parts:
Gallery